What is Flexi-Line?
Flexi-Line is a re-lining system for old or failing gutters which need to be addressed. Flexi-Line is fully weathered by Sarnafil G410-12EL PVC membrane which is factory laminated to O.6mm thick galvanised steel. BS EN 10142 grade FePoGZ275 . The gutter joints are made by hot-air welding the PVC membrane over a mechanical joint in the galvanised steel substrate. The membrane is 1.2mm thick, light grey, and resistant to normal pollutants and marine atmospheres. It will not support mould or vegetation growth.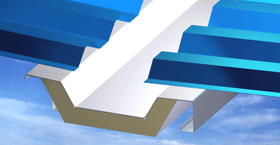 Why Flexi-Line?
Proven leak-free system used in new build construction with over 1000 miles delivered over 30 years
The only membrane that carries an independent BBA recognition of a 40 year life expectancy (for membranes 1.5mm thick or greater)
In-house structural, thermal and hydraulic design for the building facility management team
Capacity calculations are optional within the service provided
System warranty available
When Flexi-Line is installed the gutter will be like new, giving total peace of mind for the building owner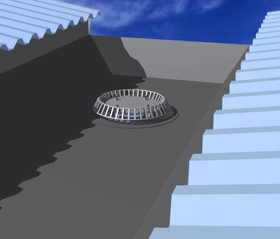 Flexi-Line uses the Sarnafil Membrane
Outlets & Overflows
The Flexi-Line system will provide for factory manufactured materials to re-line existing outlets, overflows and sump units or alternatively new units can be supplied to replace where necessary.
Drainage Calculations
Many problems with gutters relate to the lack of outlets or failing outlets which results in flooding. We can assist here by performing a review of your building drainage needs against what is actually in place. This review can be for 'gravity drainage' or for 'pressure assisted drainage'. If Siphonic Drainage is in place then this will require to be reviewed by the system manufacturer.
Movement Accommodation
A major benefit of the Flexi-Line membrane lined gutter system is it's expansion characteristic which allows long stretches of gutter to be installed without specially fabricated movement joints - which obstruct water flow. The laminated upper lined skin of the gutter flexes in response to thermal expansion without any damage to the gutter performance or life.
Warranty
Flexi-Line supplies up to a 25 year warranty over the membrane lined gutter system.
Fabrication & Installation
We will visit your site and perform a site survey which will include determining the appropriate size of Flexi-Line for your building needs. All the components required to re-line your gutter will be manufactured from the site survey details and delivered to the building for installation. We will then install Flexi-Line providing you with peace of mind for your building.
Key Technical Data
External finish:

1.2mm thick reinforced PVC weatherproofing membrane G410- 12EL, colour: light grey.

Metal finish:

0.6mm thick galvanised steel to BS EN 10142 grade FeP02G with Z275 coating.

Method of jointing:

Form site joints and fit outlets and overflows by hot air weld overlapping Sarnafil PVC membrane, leaving a central unbonded strip which allows for expansion and contraction.

Life Expectancy:

This is the only membrane that carries an independent BBA recognition of a 40 year life expectancy (for membranes 1.5mm thick or greater).

Factory fabricated Accessories:

Fitted stop ends / mitred corner sections / tee sections / change of section / sumps.